Clip Interactif

LANCER LE CLIP INTERACTIF
Persifleur est un clip interactif du groupe MERCUR.
Montez le volume & dessinez avec la souris.
Clickez sur PLAY pour démarrer !
Nécessite un ordinateur et un navigateur récent (par ordre de préférence : Chrome, Firefox, Safari...)
EP
Le 1er EP de Mercur sort fin Novembre 2013
Ecoutez d'autres morceaux de Mercur sur www.mercursound.net
MAKING-OF
L'idée du clip est née en décembre 2011 à partir d'un concept simple : permettre à l'utilisateur de "dessiner la musique". Entre cette idée et la sortie du clip en novembre 2013, de nombreuses étapes :
- Création des typographies : chaque mot du texte est dessiné à la main (à l'encre de chine, à la plume, au pinceau ou au stylo).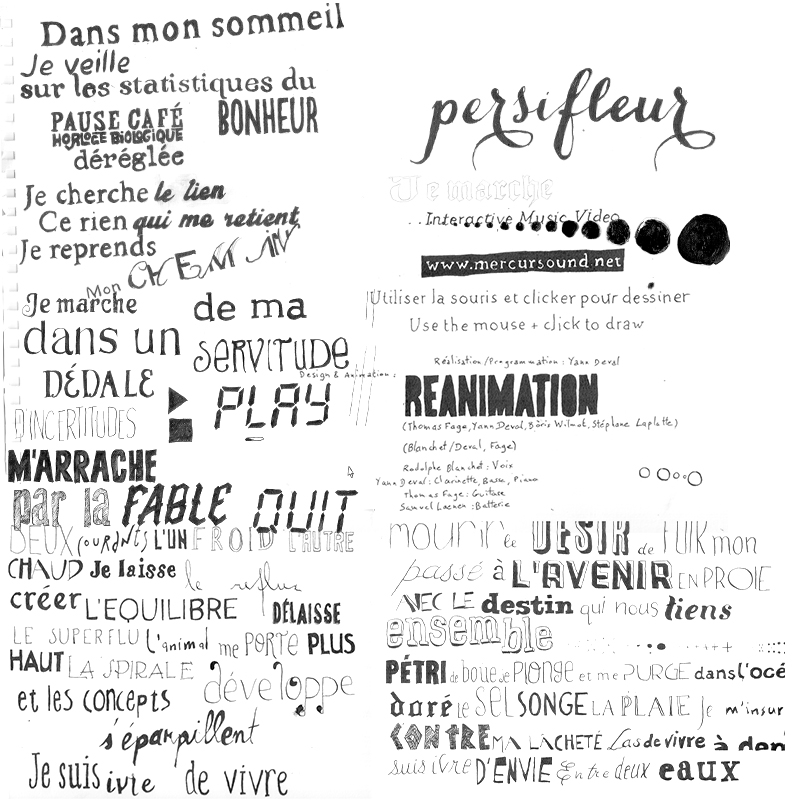 - Les mots sont ensuite scannés, puis animés via After Effects selon les intonations de la voix et des instruments.
- S'en suit un travail de programmation. Les animations sont intégrées dans ce programme, de manière à réagir aux actions de l'utilisateur.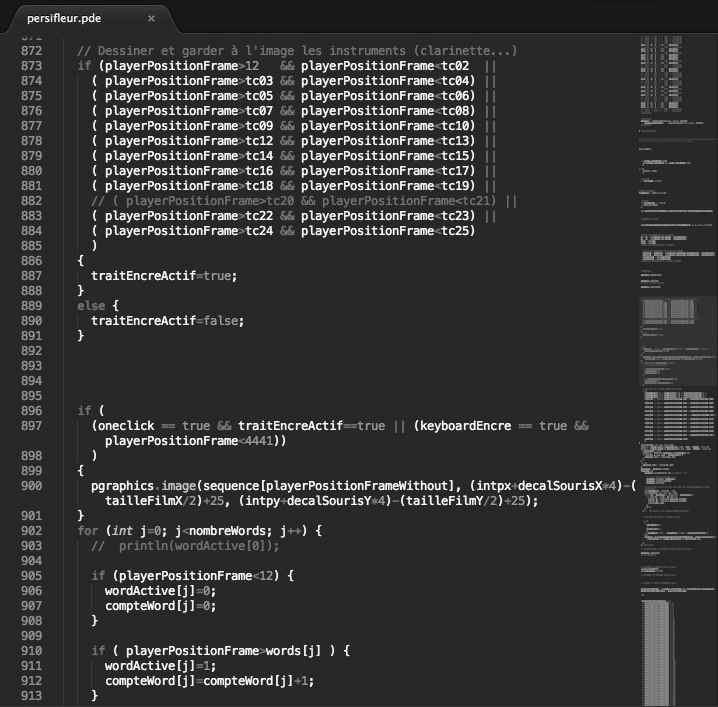 Le clip a été développé en Java avec Processing. Le code source est disponible à ce lien.
Il a ensuite été adapté en Web App grâce à ProcessingJs ajouté à du HTML5 / CSS / Javascript / PHP
Plus d'infos à venir...
FAQ
DOWNLOADS
Download the app Persifleur 1.18 for:
THE SOFTWARE IS PROVIDED "AS IS", WITHOUT WARRANTY OF ANY KIND, EXPRESS OR IMPLIED, INCLUDING BUT NOT LIMITED TO THE WARRANTIES OF MERCHANTABILITY, FITNESS FOR A PARTICULAR PURPOSE AND NONINFRINGEMENT. IN NO EVENT SHALL THE AUTHORS OR COPYRIGHT HOLDERS BE LIABLE FOR ANY CLAIM, DAMAGES OR OTHER LIABILITY, WHETHER IN AN ACTION OF CONTRACT, TORT OR OTHERWISE, ARISING FROM, OUT OF OR IN CONNECTION WITH THE SOFTWARE OR THE USE OR OTHER DEALINGS IN THE SOFTWARE.